A little late, but worth the wait. The ONEXFLY looks like a supreme device that could take on the ROG Ally if it wasn't missing one important thing.
A little late, but worth the wait. The ONEXFLY looks like a supreme device that will take on the ROG Ally with a similar spec sheet and price point, but it seems to be missing one crucial item.
What is it?
One Netbook has surprised the gaming community with the revamped ONEXFLY handheld gaming PC. Originally slated to be a budget model, the new version features an impressive array of specifications, including a 7-inch 120Hz display and an AMD Ryzen 7 7840U processor. With generous RAM and storage options, this portable gaming powerhouse is set to offer a thrilling gaming experience like never before.
🤖
The best speakers and sound from a handheld that ETA PRIME has previewed.
-King of Handhelds
Updated Specifications
The ONEXFLY has come a long way from its initial plans. Instead of the previously mentioned 6-inch FHD display and AMD Mendocino processor, the upcoming handheld now boasts a larger 7-inch display with a fluid 120Hz refresh rate and the formidable AMD Ryzen 7 7840U processor. Offering at least 16GB of RAM and 512GB of storage, the ONEXFLY is geared towards delivering top-notch gaming performance.
Crowdfunding and Pricing Options
One Netbook has revealed the crowdfunding prices for various configurations of the ONEXFLY, providing potential backers with multiple options. At $799, you can get your hands on a version equipped with 16GB of RAM and 512GB of storage. However, if 2,000 people opt for a "mega bundle" for $10, which includes a 128GB microSD card, protective case, and tempered glass screen protector, the price will drop to $739.
Display and Form Factor
The ONEXFLY showcases a 7-inch IPS LCD display with 1920 x 1080 pixels resolution. Its compact dimensions of 263.6 x 98.25 x 22.6mm (10.4″ x 3.9″ x 0.9″) and a weight of 580 grams (1.3 pounds) make it lighter than the Steam Deck and ROG Ally for more accessible on-the-go gaming.
Powerful Performance and Connectivity
Under the hood, the ONEXFLY packs the AMD Ryzen 7 7840U "Phoenix" processor with Radeon 780M integrated graphics, ensuring a smooth and immersive gaming experience. The device also has a 48 Wh battery and a GaN power adapter that supports 65-watt fast charging, allowing for extended gaming sessions without interruption. Regarding connectivity, the handheld includes two USB4 Type-C ports, a USB 3.2 Type-A port, a 3.5mm headset jack, and a microSD card reader, ensuring seamless interaction with peripherals.
Cyberpunk 2077 gets an average of 76 FPS at 720p, low settings, and 20 watts.
It's Missing Something Big!
There is no Oculink or exclusive port for eGPUs, which I think should be a no-brainer in today's handheld world and makes the device a potential desktop replacement that allows for future upgradeability.
Conclusion
The ONEXFLY handheld gaming PC's transformation from a budget model to a high-performance marvel is impressive. With its 7-inch 120Hz display, AMD Ryzen 7 7840U processor, and ample memory and storage options, it is set to challenge established competitors in the handheld gaming space. They need to add an eGPU port to make it a ROG Ally Killer.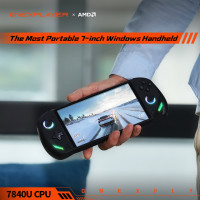 Check it out below!
Want More?